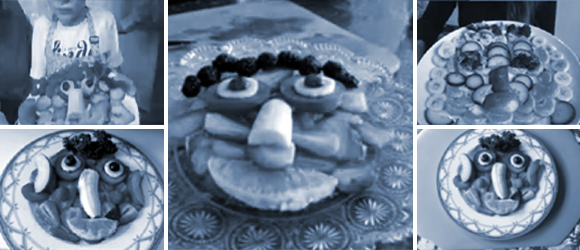 Holland America Line — National Food Faces Day
Background
In 2018 Holland America Line's Master Chef Rudi Sodamin released the art-table book, "Food Faces," featuring more than 150 vibrant images of his edible cast of characters. He creates each plate personality using vegetables, fruit, meats, fish, grains and sweets. Food Faces has since become an integral part of the experience at Rudi's Sel de Mer specialty restaurant. To celebrate the playfulness of Food Faces, NewmanPR secured the date of April 6 (Sodamin's birthday) as National Food Faces Day in the National Day Archives.
NewmanPR was responsible the strategy, implementation, timing and publicity of the campaign.
Strategy
With the global pandemic shutting down the cruise industry and making in-person events impossible, NewmanPR needed to come up with a fresh idea to keep Holland America Line top-of-mind with journalists. To celebrate the inaugural National Food Faces Day, we suggested doing an online event with a select group of journalists who would create a Food Face from the comfort of their own kitchen. We worked with Sodamin to come up with an easy Food Face that could be created quickly at home.
Upon a positive RSVP, we sent each participant an ingredient list and a $20 Amazon Gift Card to purchase the food. On the day of the event, everyone was live online watching Sodamin make the Food Face during an interactive video session. Once done, we asked all participants to hold up their creation for a group screen capture of the end results.
Food Faces books were sent to all who participated in the event.
In addition, NewmanPR reached out to some of Sodamin's famous chef colleagues and asked them to create their own Food Face to share on social media. We received entertaining creations from several well-known personalities including David Burke, Andy Matsuda and Jonnie Boer.
Results
The campaign led to successful awareness of Holland America Line and Food Faces. A press release announcing the inaugural National Food Faces Day was distributed by Holland America Line to coincide with the April 6 event.
The campaign resulted in 103 placements with a combined audience reach of 297 million and an estimated advertising equivalency value of $7 million.