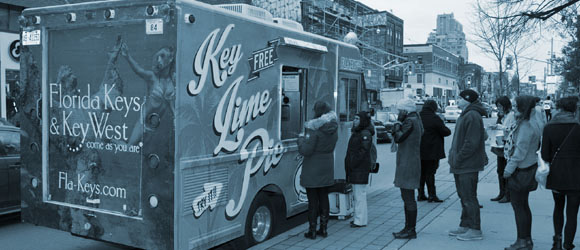 Florida Keys — Taking Key Lime Pie to Canada
Background
Canada is a significant market for the Florida Keys, which is why NewmanPR has an affiliate relationship with Canadian PR agency LMA. Each year LMA proposes an event to generate coverage of the Keys in the Canadian press.
Strategy
Banking on Canadians' lack of familiarity with the Keys' indigenous dessert, LMA and NewmanPR planned and executed a Key Lime Food Truck promotion in Toronto, Canada. The program featured a food truck decorated with Keys imagery distributing free slices of Key lime pie in high–foot traffic locations. Other elements included a charity tie-in and distribution of significant Keys messaging.
Results
The effort received media coverage including live spots on several of the region's morning television news shows. Coverage also included posts on national Canadian travel and lifestyle sites while U.S. coverage included the Miami Herald business section, Travel + Leisure and a story by the Associated Press.
Social media coverage resulted in more than 900,000 impressions from #FLKeysPieTruck on Facebook, Twitter and Instagram. Total media impressions across all platforms exceeded 2 million, for an estimated PR value of more than $125,000.