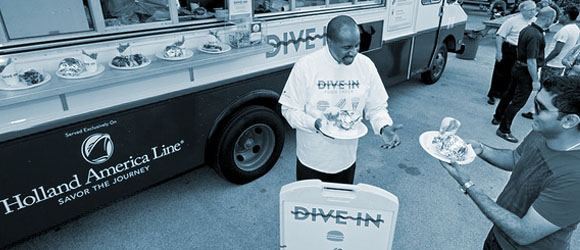 Holland America Line Food Truck Stunt
Background
Holland America Line tasked NewmanPR with creating a publicity stunt to gain attention at the Seatrade Cruise Convention in Fort Lauderdale, Florida — an annual trade convention that draws more than 10,000 representatives of every major cruise line, destinations from around the world and vendors that serve the cruise industry.
NewmanPR was responsible for the strategy, implementation, timing and publicity of the campaign, working with the Holland America entertainment department, which designed the branded wrap for the food truck.
Strategy
Holland America Line had recently launched a "Dive-In" burger and hot dog bar concept on its ships. The Seatrade Convention offered minimal food options for lunch, so with approval from the Broward County Convention Center, NewmanPR worked with the cruise line to contract a food truck to park outside the convention center and serve premium burgers, hot dogs and fries from the Dive-In menu. The agency hired a sign spinner to direct attendees to the truck's location.
NewmanPR proposed a charitable component to the stunt. To launch the initiative, the food truck served free food to cruise and cargo ship crew members at Seafarers' House, a local maritime charity at Fort Lauderdale's Port Everglades. Following that event, the truck relocated to the convention center for two days and offered Dive-In menu items to convention attendees for a $10 donation to raise funds for Seafarers' House.
Results
Sales of the Dive-In menu items were brisk, which increased brand awareness for the onboard specialty restaurant and raised nearly $100,000 for Seafarers' House.
"One more round of sincere thanks for all the hard work and passion that went in to making the food truck such a success this week. It was incredibly fun, generated a lot of talk value and brand awareness, not to mention raising money for a great cause! And a special thank you for adapting to the curve ball we threw out with the request to take it to the Porthole party that evening." — Sally Andrews, former VP of Public Relations
"I want to piggyback Sally's remarks. The food truck was a tremendous success. This is a great example of collective intelligence at work. We worked very collaboratively to take a wild idea and make it real. I'm very proud and excited by what we accomplished." — Orlando Ashford, former president of Holland America Line