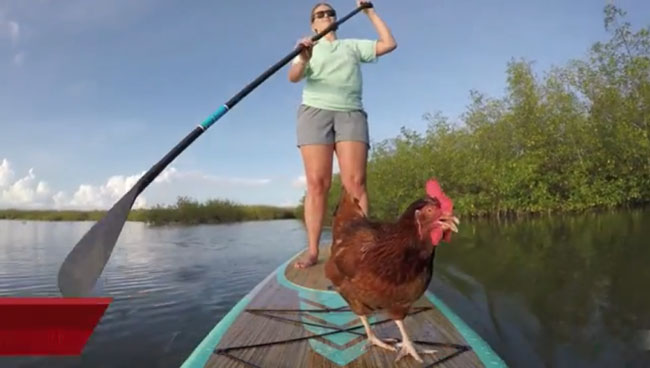 Sometimes it takes a creative eye, no matter how storm-weary. A stroke of luck. A sense of humor.
A chicken on a paddleboard.
NewmanPR's video of Keys resident Karly Venezia and her year-old pet chicken Loretta on a paddleboard have gone viral.
Free-range chickens are common in Key West, but uncommon on paddleboards.
Global networks and TV stations, the Associated Press, Reuters, "The Today Show," "Good Morning America," online sites and a veritable "flock" of other media outlets picked up the story.
Across the globe, the social media reach is in the hundreds of millions, approaching a billion. There are more than 772 million potential online impressions and an online advertising value of nearly $4 million, according to NewmanPR's analytic data.
Such a reach means every U.S. citizen could have seen the story — twice.
Andy Newman, who has overseen the Florida Keys & Key West tourism council account for 37 years, recognized the PR value of a "good news" story coming out of a region that is recovering from Hurricane Irma.
Friend Karen Thurman, general manager of Marathon's Faro Blanco Resort and Yacht Club, a Hyatt Place, had shown Andy a photo of her daughter Karly and her "grand hen" Loretta, a Rhode Island Red.
Instantly, Andy knew the shot had Facebook and YouTube potential. He conceptualized the video package, shot by Islamorada photographer Bob Care with a GoPro camera mounted on the paddleboard.
"Loretta's very curious and follows us around the yard," says Venezia, a Keys resort sales director whose husband Mike is a charter fishing guide.
"Living in the Florida Keys, we like to get out on the water so it only seems natural to us to take Loretta paddleboarding and boating and things that we do with our dogs.
"I like hanging out with Loretta,"Venezia adds. "For us, I think, coming out here and getting to enjoy the beautiful sunset is what makes living in the Keys so special."
It's an iconic Florida Keys image — a couple of chicks on a paddleboard watching a pink and orange sun sink into the horizon at the end of another day in paradise.