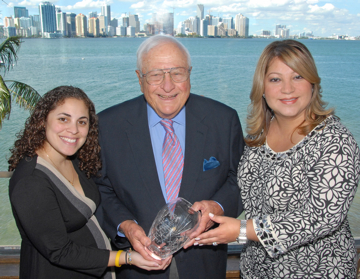 The chairman of one of South Florida's oldest public relations agencies was honored Friday, Sept. 28, with a lifetime achievement award from the Miami Chapter of the Public Relations Society of America.
NewmanPR agency Chairman Stuart G. Newman has been a South Florida-based public relations practitioner for more than 60 years. The PRSA Miami chapter conferred the Bill Adams Lifetime Achievement Award to recognize Newman for his leadership and contributions to the public relations profession and the community.
Client longevity has been a trademark of NewmanPR since its inception. The agency has provided public relations representation for Florida Keys & Key West tourism for 27 years. Cruise industry giant Carnival Cruise Lines has been a client since 1989. Other current clients include Holland America Line, Seabourn Cruise Line, Star Clippers Cruise, Image Photo and the Seatrade Cruise Shipping Convention.
Newman is an alumnus of distinction of the University of Florida and established a scholarship fund at the school for students pursuing studies in public relations.
The award is named for Bill Adams, whose four-decade PR career included senior public relations positions at Phillips Petroleum Co., Standard Oil Co. of Indiana, and Amoco. Prior to his death in 2003, Adams taught public relations for 13 years at Florida International University.