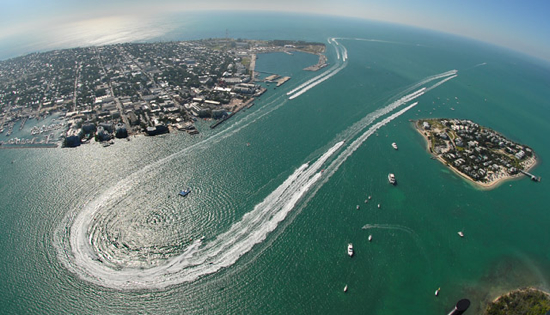 Photographing offshore powerboat racing is not only quite risky, it can be quite noisy. Flying, in a helicopter, at more than 100 mph, 15 feet above the water with a high-speed offshore powerboat out your open door and so close that you can touch it, is almost deafening.
I imagine that's why one day, several years ago, I told the pilot to climb 500 feet and just chill out for a few minutes. I just had to get away from the action and the noise.
But as I looked out and saw the boats coming in and going out of Key West Harbor I saw an incredible sight and knew that would be a great overall scene setter. I've done similar photographs every year of the season-ending Key West World Championship. A full-frame fisheye lens on my Nikon digital camera helps to gather in the entire race course to capture the subtropical island and its most popular sporting event for media points around the globe.